Sunday 2nd December saw two "sell out" performances of Dick Whittington by the Masonic Thespians of Corby.
Watched by over 300 people, once again script writer Jack Summerfield and his team put on a feast of visual and spoken Pantomime.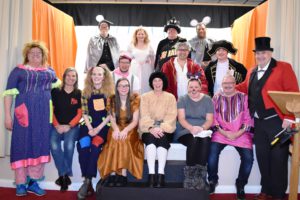 Looking on this year we also welcomed a number of residents from the Glenmore Nursing Home, who are our neighbours at the Rockingham Road complex.
Entry was free for Masons families, friends and invited guests but a raffle was held and this raised a magnificent sum of £414 for TLC.
no images were found
Here's this years Castlist…………..
Narrator – —————————————-Ali Rae
Fairy Bow Bell ———————————–Ruby Tarbotton
King Rat ——————————————Rab Reid
Trump the rat ————————————Mel Garner
Boris the rat ————————————–Greg Allen
Dick Whittington ——————————–Melanie Tew
Nicole the cat ———————————— Karen McNamee
Lazy Jack —————————————–Emily Summerfield
Alderman Fitzwarren —————————Ian Lapsley
Alice ———————————————-Courtney Smith
Roger ——————————————– Jason Hazelton
Sarah ———————————————Jack C. Summerfield
Captain Cook ————————————Phil Fitzpatrick
Sheikh and Radio —————————— George Peel
Tiddley Tree ———————————— Ollie Hazelton