Over 30 Corby Masons joined the Remembrance day Parade to the Corby old village on Sunday 11th November.
They were joined at the cenotaph by at least another 20 Freemasons and their families .
WBro Jim Spence representing the Northants and Hunts Provincial Grand Lodge proudly laid a wreath of poppies , and WBro Ronnie Stone laid a wreath on behalf of the Lodges in Corby.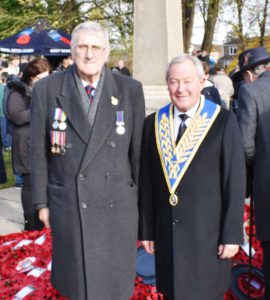 Following the ceremony, a number of the group met in a local pub to toast the fallen from the wars.